It is so disappointing to see my baby bitten by a mosquito. It creates red swelling on her skin that looks like very itchy. Avoiding mosquito attack is difficult to do, thus I ask my baby's doctor if what topical solution I can safely apply for my baby, to protect her from the mosquito's bite.
My baby has very sensitive skin, so I need to be extra careful with what I should apply.
The doctor told me to buy citronella to get rid of mosquitoes. I tried some stores, but I couldn't find the brand that she mentioned so I just decided to go to Healthy Options shop, as this store is also known for selling organic supplements.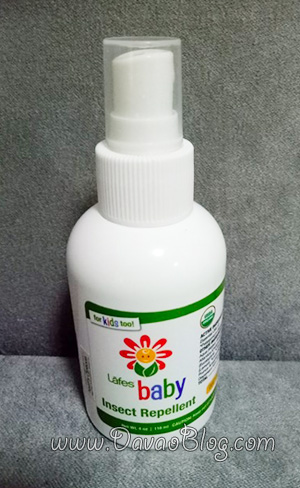 I ask the saleslady about their organic/natural solution that I can use for my baby. She recommended Lafes Baby Insect Repellent as one of their bestseller option. Lafes baby is a Chemical and Deet free product, so I decided to try.
To use, I shake it first and spray to the exposed skin of my baby every 3 hours. Please note to avoid contact with the eyes or mouth. I also do not apply it to my baby's fingers as she used to thumb-suck and I don't want her to accidentally intake some of its residues.
The spray actually smells good, soothing and pleasant.
Here are the ingredients of Lafes Baby Insect Repellant: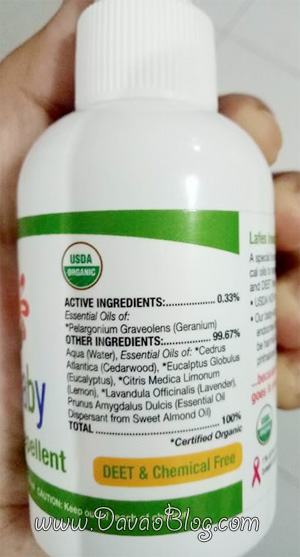 Active Ingredients (0.33%)
Essential Oils of : Pelargonium Graveolens (Geranium)
Other Ingredients (99.67%)
Aqua (Water), Essential Oils of: Cedrus Atlantica (Cedarwood), Eucalptus Globulus (Eucalyptus), Citris Medica Limonum (Lemon), Lavandula Officinalis (Lavender), Prunus Amygdalus Dulcis (Essential Oil Dispersant from Sweet Almond Oil)
** Certified Organic
Lafes baby is actually effective in protecting my baby from the mosquitoes, however you must not forget to re-apply again every 2-3 hours, since it only last for a short period of time.
Disclaimer: This is not a paid review, I just wanted share great products that I've used.